Heidi Fosli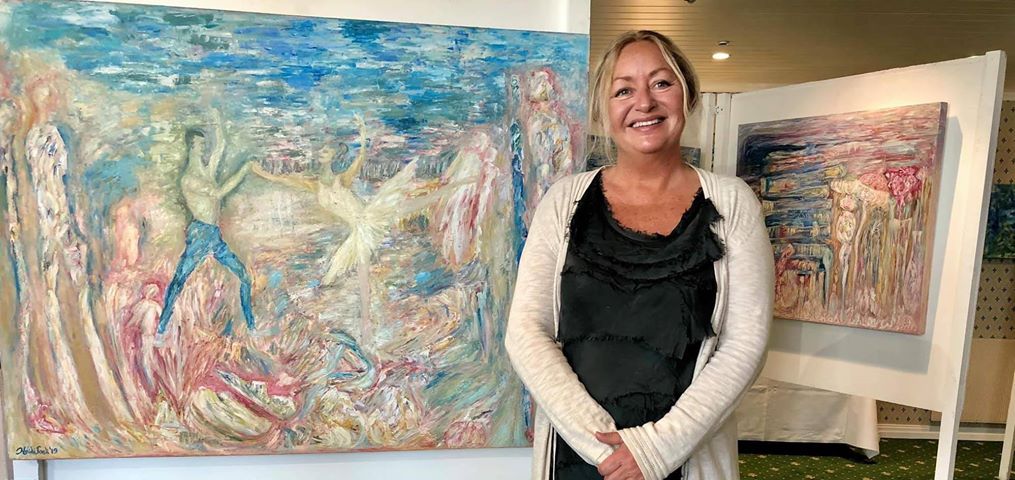 Painter
Born in Sandefjord 1961
Lives and works in Oslo, Norway and Arpino, Italy
Student at Academy of Art University, San Francisco in painting and drawing
Student of Oddmund Raudberget in sculpture
Heidi Fosli is a multi-award winning professional artist with an international career living and working in both Norway and Italy. She is represented in five permanent art museum collections in the USA, Denmark, Italy, South Korea, and World Virtual Museum (virtual) with 35 paintings in total, and also has works in the public space in Italy and Norway. In 2019 she was invited to and exhibited at the VENICE BIENNALE !

Art critic Prof. Paolo Levi argues: "Through the extraordinary use of color, which goes far beyond just aesthetic research, Heidi Fosli gives free heterogeneous expressive potentials that come from an internalized study."

Well-known art critic Vittorio Sgarbi writes: Fosli uses a color in clear expressionist heritage, in keeping up with the best Scandinavian tradition, extreme vibration itself in thick and cohesive brushstrokes, almost like Nabis. The cold shades alternate with the warmth where ice haloes will shine with volcanic fires, in a glowing, contrasting, sometimes disturbing, but flawless visionary balance.

Italian art historian Daniela Fraioli claims that Fosli is revolutionizing Impressionism! Italian art critic and writer Costanzo Costantini calls her a "daughter of Ibsen and Munch", and art critic Salvatore Russo says she communicates a new language with her art!

As the first Norwegian artist in history, she received a bronze medal for her work from the prestigious academy "Arts-Science-Lettres" in Paris, and has received 35 awards and recognitions from many countries. Heidi Fosli has had 36 solo exhibitions since her debut in 2006 and has participated in 78 collective exhibitions worldwide. She has been selected and exhibited at the prestigious SNBA (Salon) exhibition in the Louvre Paris, London Biennale, Verona Triennale, MIIT Museum of Contemporary Art in Turin, Museum of Art & Science in Milan, Chianciano Biennale and Bienial Barcelona MEAM Museum for modern art. She was selected as "Artists of the World" in Cannes by Marina Picasso (Pablo Picasso's granddaughter), where she also received an "Honorable mention" from Picasso! She has had a solo exhibition in the Vatican City of Rome, exhibited in the Presidential Palace in Rome, had a retrospective separate exhibition invited by the Mastroianni Museum in Italy, and has had solo exhibitions in New York, Rome, Vienna, Oslo and Berlin to name a few. She has exhibited all over the world from China and Hong Kong in the east to New York and Nevada in the west. Her works have been purchased by private collectors and companies in Norway and abroad, including the United States, Sweden, the Netherlands, England, Poland, Germany, Italy, Hong Kong, France and Denmark.

Fosli studied art at the Academy of Art University in San Francisco, and also holds a degree in psychology from the University of Oslo with the subjects of social anthropology and sociology. She has also been a student of Oddmund Raudberget in sculpture, works with oil painting and graphics, and paints intuitive and colorful paintings in both impressionistic and expressionistic style. Primary sources of inspiration are Claude Monet and Munch's symbolism.

ARTIST STATEMENT
Central to Fosli's art are depersonalized human representations. She works in both the figurative and abstract traditions. Her work is soulful and intuitive. She has stated that she tries to convey the wonder of our existence with her art, and also highlight an imbalance in our society. She focuses on expressing powerful and dramatic emotions in interpersonal relationships in order to address issues in our society. Color is an important element of her expression.

She uses symbolism to a great extent, and ambiguity is central, focusing on the big questions about our existence. She tries to mirror the contemporary world we live in. Fosli finds inspiration from her extensive travelling, but also from the environment of everyday life with political influence and based on mechanisms in our society. Our quest for justice, democracy, freedom, gender equality, and the pursuit of all forms of oppression are important topics in a global perspective of interest in her work.
UPCOMING EXHIBITS:
| | |
| --- | --- |
| 2023 | Jury Tour Special Exhibition, November 20 - December 6, Yeosu Museum, Exhibition Hall 2, Yeosu, South Korea |
| 2023 | Jury Tour Special Exhibition, December 8 - 17, Geumboseong Art Center, Seoul, South Korea |
| 2024 | MinAri Group, January 20-30, Ravenna, Italy |
| 2024 | Sofia University, St Kliment Ohridski, Arsenoe Contemporary Art, october, Sofia, Bulgaria |
| 2024 | Solo exhibition, Art&Eigensinn, May 10-24, Bern, Switzerland |
EXHIBITS:
SOLO EXHIBITIONS
| | |
| --- | --- |
| 2023 | "A selection of paintings", Fredriksborg, Bygdøy, Oslo, Norway |
| 2023 | "Story of Life", Palazzo Bisaccioni, Jesi, Marche, Italy |
| 2023 | "Harmoniy and Dynamics", Beito Kunsthall, SAS Raddison, Beitostølen, Norway |
| 2022 | Soloshow "Alt det vakre", Hotel Wassilioff - Stavern, Grand Hotel Åsgårdstrand, Hotel Kong Carl - Sandefjord, Norway |
| 2022 | Soloshow "Tutte le Bellezze", Posta Fibreno, Italy |
| 2022 | Soloshow "Tutte le bellezze", March 26-27, Palazzo Boncompagni, Arpino, Italy |
| 2021 | Soloshow "Soul Creations", Haegeumgang Yukyung Art Museum, January 1 - February 25, Geoje, South Korea |
| 2021 | "Soul Creations" - Soloshow, November 4-December 25, Daesan Art Museum, South Korea |
| 2021 | Soloshow "Embrace", Hotel Wassilioff - Stavern, Grand Hotel Åsgårdstrand, Hotel Kong Carl - Sandefjord, Norway |
| 2021 | Soloshow "Embrace", Lørenskog Art Society, soloshow, April 10 - June 30, Norway |
| 2020 | Solo show, "Heidi Fosli Paintings 2014-2020", an art project in collaboration with Selvaag Eiendom, Urban Jungle Real Estate Developer and the Artist , Nov. 5- 30, Tjuvholmen, Oslo, Norway |
| 2020 | Solo show "Heidi Fosli Paintings 2016 -2020", Grand Hotel Åsgårdstrand, Hotel Kong Carl - Sandefjord, Norway |
| 2019 | Retrospective exhibiton, paintings 2011-2019, Eiksmarka Senter, Bærum, Norway |
| 2019 | Solo show "TIME", Hotel Wassilioff - Stavern, Grand Hotel Åsgårdstrand, Hotel Kong Carl - Sandefjord, Norway |
| 2018 | Solo show "Human Society" at Gallery 35 exhibition space in collaboration with AMB Art Management Berlin, December 4-10, Auguststraße 35, 10119 Berlin, Germany |
| 2018 | Soloshow "Lonely Planet" Hotel Wassilioff - Stavern, Grand Hotel Åsgårdstrand, Hotel Kong Carl - Sandefjord, Norway |
| 2017 | "Antropos" Solo Show during Artists Easter Exhibition, Hotel Wassilioff, Stavern, Norway |
| 2016 | November 3 - January 19, Solo show "Human Act versus Act of Man", Trygve Lie Gallery, Manhattan, New York |
| 2016 | Solo show, "Heidi Fosli - Høstutstilling 2016", in cooperation with Urban Jungle Real Estate, Drammensveien 72, Oslo, Norway |
| 2016 | Fondazione Mastroianni, Solo exhibition "Silent Emotions", Arpino, Italy |
| 2016 | Solo show "Silent Emotions", Gallery Steiner, Vienna, Austria |
| 2016 | Solo show "Silent Emotions", Artists Easter Exhibition , Hotel Wassilioff, Stavern, Norway |
| 2016 | Solo show, "Immagini e Sogni nelle Opere di Heidi Fosli",The Vatican, Palazzo della Cancelleria, Rome, Italy |
| 2016 | Solo show, "Emozioni silenti", Galleria Il Collezionista, Via Rasella, Rome, Italy |
| 2015 | Kunstnernes Påskeutstilling, Stavern, Norway |
| 2014 | Soloshow "Imposed", Artifact, Manhattan, New York, USA |
| 2013 | Solo show "Heidi Fosli Paintings 2003 - 2013" Rukla, Sandefjord, Norway |
| 2012 | Solo exhibition of paintings "Bridges - works 2002 - 2012" at Galleria Tondinelli, Rome, Italy |
| 2011 | Exhibit of paintings at The Artists Easter Exhibition, Stavern, Norway |
| 2010 | Solo Exhibit of paintings Human Society at Gallery Frognerveien 44, Oslo, Norway |
| 2010 | Festival Exhibit of paintings at Gallery Frøya at the Summer Academy, Kalvåg, Norway |
| 2009 | Solo Exhibit of paintings at Galleri Sovart, Kragerø, Norway |
| 2009 | Exhibit of paintings at Gallery Frognerveien 44, Oslo, Norway |
| 2008 | Solo Exhibit of paintings at Clodion Art Café, Oslo, Norway |
| 2008 | "Bohemian Rhapsody on the Wall" at Langesund Bad Gjestegård, Langesund, Norway |
| 2007 | Exhibit of paintings at Gallery Schweigaardsgate 88 in Oslo, Norway |
| 2007 | Exhibit of paintings at Gallery Frognerveien 44 in Oslo, Norway |
| 2006 | Debut exhibit of paintings at Martha Mettlig, Solli Plass in Oslo, Norway |
GROUP EXHIBITIONS
2023
9th Geo9th Geoje Int Art Festival, Oct 1 - Nov 25, Haegeumgang Theme Museum/Yukyung Art Museum, South Korea
2023
Cairo Opera House, Arsenoe Group, September 25 - 30, Egypt
2023
Art3F Luxembourg, September 15-17, Luxembourg
2023
The Manila Experience, MinAri Group, Gallery Art Anton, Manila, Philippines
2023
Hampton´s Fine Art Fair, July, Digital showing represented by Artifact Gallery, New York
2023
"Incontri Europei", Palazzo D´Accursio, represented by Galeria De Marchi, Bologna, Italy
2023
Art EXPO New York, March 30 - April 2, Digital show by Gallery Artifact, booth 607,

Pier 36, 299 South St, New York, USA

2023
Finalist for Tamara de Lempicka Art Award/Exhibition, March 23-31, Studio Artemisia, Rome, Italy
2023
Forli Art Fair, March 17-19, represented by Galleria d´arte Di Marchi, Italy
2023
Minari, Galleria d´arte Di Marchi, Bologna, Italy
2023
Los Angeles Art Fair represented by Gallery Artifact, USA
2022
Red Dot Art Fair represented by Artifact Gallery (NY), Miami
2022
9th International Art Exhibition, Haegeumgang/Yukyung Art Museum, Geoje South Korea
2022
Fredriksborg, Bygdøy, November 5-6, Oslo, Norway
2022
MinAri, Villa Valetudine, Udine, October, Italy
2022
"Bruksparken", Skolgatan 1, Molkom, Sweden
2022
Tamara de Lempicka Art Art Award/Art Show, May 28 - June 6, Scuola Grande di San Teodoro, Venice, Italy
2022
Venice Art Gallery, "Preludio alla Biennale", Curated by Giorgio Gregorio Grasso, Art Critic, Art Historian, May 27 - June 8, Venice, Italy
2022
MinAri, International Group Exhibition, Venice Art Gallery, April 23 - May 7, Venice, Italy
2022
World Art Forum, Egyptian Museum of Civilisations, January 15 - 19, Cairo, Egypt
2021
Judges Exhibition "Peace Again", Yeosu Museum of Art, December 1 - 26, South Korea
2021
"3 Artists - 3 Colors", October 4 - November 3, Daesan Art Museum, South Korea
2021
Prestigious Academy "Arts-Sciences-Lettres", Award Ceremony, Hotel Intercontinental Le Grand, sal Opera, Paris, France, September 25, received tin medal !
2021
"3 Artists - 3 Colors", September 13 - 28, Kim Bo-seong Art Center, Seoul, South Korea
2021
"Peace Again" 7th International Art Festival, Haegeumgang Yukyung Art Museum, Geoje, South Korea
2020
Elverum Art Society, October 10-25, Elverum, Norway
2020
Haegeumgang Museum, September 1 - October 25, Seoul, South-Korea
2020

"Her Majesty", Group exhibiton, Egyptian Cultural Bureau, February 26-29, Rome, Italy
2020
Salon des indépendants - Art Capital, Grand Palais, February 11-16, Paris, France
2019
Venice Biennale, guest artist at Bangladesh National Pavilion ! May 11 - November 24, Palazzo Zenobio, Venice, Italy
2019
Galleri-ER, Christmas exhibition, Sandefjord, Norway
2019
The International Arsinoe Forum for Contemporary Art, 16-22 november,

Tunisia, Fayoum Governorate, Egypt

2019
Artisti di Collecarino, Gallery Il Salottino, Arpino, Italy
2019
ATIM Top 60 Masters Award, Viviana Puello Grimandi Gallery, group show, Manhattan, New York
2019
Artist of the Year Award - Artista dell´AnnoEffetto Arte Artmagazine and link to award, Palermo, Italy
2018
Gagliardi Gallery, Selected artists from Chianciano Biennale, King´s Road, Chelsea, London, UK
2018
Chianciano Biennale 2018, Chianciano Museum of Art, Tuscany, Italy
2018
"Segni in Movimento" , Galleria d´Arte Consorti, Rome, Italy
2018
Group show, Galleria d´Arte Consorti, Rome, Italy
2017
Spectrum Miami represented by Studio 26 Gallery based in New York, USA
2017
Montreux Art Fair, Montreux, Switzerland
2017
Gli Artisti di Collecarino, Town Hall, Palazzo Boncompagni, Arpino, Italy
2017
Museum of Contemporary Art, Miit, Torino, Italy
2016
SNBA, Salon des Beaux Arts, Carrousel du Louvre, Paris, France
2016
Langkawi Art Biennale, "Exploration", Langkawi, Malaysia
2016
Solamessen previously PWC-messen, Sola, Norway
2016
Group show, Ashok Jain Gallery, Lower East Side, New York , USA
2016
Lørenskog Lions Art Exhibition, Kjenn Skole, Lørenskog, Norway
2016
EA Gallery Club, Palermo, Italy
2016
Triennale Verona, Verona, Italy
2016
Femminissage, Group show, International Urbis & Artis, Teatro dei Dioscuri, Quirinale (Presidential Palace), Rome, Italy
2016
36th Anniversary Exhibition at Ashok Jain, Lower East Side, New York
2015
154th Edition of National Society of Fine Arts Fair – SNBA, Carrousel du Louvre, Paris, France
2015
"Art in Palace", Galleria Farini, Palazzo Fantuzzi, Bologna, Italy
2015
La Galerie Bog-Art, represented by Galerie Artitude Paris, Brussels, Belgium See here for more information:
2015
Espace Art Gallery through Com2Art, Brussels, Belgium See here for more information:
2015
"Art and the Polis" Florence Biennale X edition, Italy See diploma here:
2015
Galerie Artitude, Paris, France
2015
Artists of the World Fair 2015 by Marina Picasso, Gare Maritime, La Croisette, Cannes, France
2015
S & V Gallery, through Artitude Gallery Paris, 4 W 43 Street Suite #415, crossing 5th Avenue, Manhattan, New York, USA
2015
"GLOBAL VILLAGE - Il mondo come un villaggio globale" in concomitanza con la Biennale di Venezia, Venice, Italy
2015
"Gli Artisti di Collecarino" , Auditorium Pietro Cossa, Arpino, Italy
2015
The Art Contemporary in the Vatican, Seat of the Vatican, Piazza delle Cancelleria 1, Rome, Italy
2015
Riflessismo, Kongsvinger Fortress, Kongsvinger, Norway
2015
International Contemporary Masters, Nevada Museum of Fine Arts, Las Vegas, USA
2015
Bienal Barcelona, MEAM, Museo Europeo d´Arte Moderna, Barcelona, Spain
2015
Monumental Complex Theatre of Diòscuri Quirinale, Rome, Italy
2015
International Contemporary Art Fair, Conrad Hotel, Hong Kong, China
2015
FLORENCE ART- Palazzo Guicciardini Bongianni, Florence, Italy
2015
Art of the Future in the Halls of the Past, Sala Bramante, Museum Complex, Il Collezionista, Rome, Italy
2015
Biennale Palermo, Palermo, Italy
2015
Wunderkammer, Palermo, Italy
2014
Biennial Europa, Paris, France
2014
Gallery Ashok Jain, New York, USA See here for more information:
2014
Il Collezionista, Stuttgart, Germany
2014
Louvre, Carousel du Louvre, Paris, France
2014
La Grande Exposition Universelle, Paris, France
2014
International Art Festival, Spoleto, Italy
2014
Art China Beijing represented by Gallery Steiner from Vienna, China
2014
Artistic Trophy Knights of Malta, Malta
2014
6th International Art Festival, Galleria l´Agostiniana by Galleria Il Collezionista, Rome, Italy
2014
Grand opening, Atelier Austmarka, Solo show, Kongsvinger, Norway
2014
Museo d´Arte e Scienza, group exhibition, Milan, Italy
2014
Art Monaco 2014
2014
Galleri Frøya, Kalvåg, Norway
2014
Art Chengdu represented by Gallery Steiner in Vienna, China
2014
Galleria Il Collezionista, Group show, Rome, Italy
2013
La Tua Arte Nel Sociale, Art Contest, Galleria Il Collezionista, Rome, Italy
2013
Chianciano Biennale 2013Chianciano Art Museum, Chianciano, Italy
2013
Riflessismo Art Exhibition Palazzo Fraternita dei Laici, Arezzo, Italy
2013
Art of the Mind Gagliardi Gallery, London, UK
2013
International Art Expo New York NY, New York, USA
2013
Group Show Amsterdam Whitney Gallery, Chelsea, New York, USA
2013
London Art Biennale Chelsea Old Town Hall, London, UK
2012
Christmas EXPO Galleria 360, Florence, Italy
2012
One of a Kind - Unconventional Portraits Galleria Opio5, Montepulciano, Italy
2012
Group show "Masters and Artists of Today" at Galleria Tondinelli, Roma, Italy
2012
International Art Exhibition "Spirit of Art" at MOYA Museum, Vienna, Austria
2011
International Art Exhibition Lights in the Winter 2011 at Old Jaffa Museum of Archeology, Jaffa, Tel Aviv, Israel
2011
Exhibit of paintings at Gallery Tosmur and link to Gallery Tosmur, Stathelle, Norway
2011
Biennale Chianciano 2011 at Museo d Arte di Chianciano, Chianciano, Tuscany, Italy
2009
Exhibit of paintings at Moss Society of Arts, Moss, Norway
2008
Exhibit of paintings at Gallery Frøya, Kalvåg, Norway
2008
Exhibit of paintings at Gallery Rød, Rød Mansion for Halden Society of Arts, Halden, Norway
2007
Exhibit of paintings at Sandefjord Society of Arts in Sandefjord, Norway
2007
Exhibition of paintings at Gallery Frognerveien 44 in Oslo, Norway
PERMANENT EXHIBITS:
PUBLICATIONS:
| | |
| --- | --- |
| 2019 | Venice Biennale official catalogue, Venice, Italy Read here: Read here: |
| 2019 | Primo Premio Contemporary Art, ArtEXPO Gallery, Venezia, Italia Read here: Read here: |
| 2019 | Artist of the Year, Artista dell´Anno, Palermo, Italy Read here: Read here: |
| 2018 | Heidi FOSLI 1a Scelta (First choice), catalogue with art essay og price evaluation of paintings, published by Effetto Arte, Italy Read here: and here: |
| 2018 | Certamen, Arpino, Italia Les her: Les her: |
| 2018 | Heidi FOSLI curated by Vittorio Sgarbi, catalogue with art essay and selected paintings, English version, published by Effetto Arte, Italy Read here: and here: |
| 2018 | Heidi FOSLI curated by Vittorio Sgarbi, catalogue with art essay and selected paintings, Italian version, published by Effetto Arte, Italy Read here: and here: |
| 2018 | Chianciano Biennale, Chianciano, Tuscany, Italy Read here: and here: |
| 2017 | MAG - Montreux Art Fair represented by Mona Youssef Gallery from Canada, Montreux, Switzerland Read here: and here: |
| 2017 | FEELGOOD 4-2017, Oslo, Noway Read here: Read here: |
| 2017 | First Berliner Art Book 2017, Berlin, Germany Read here: and here: |
| 2016 | ITALIANI selezione d´arte contemporeana a cura di Vittorio Sgarbi, p.181, EA, Italy Read here: and here: |
| 2016 | Salon Nationale des Beaux Arts, Carrousel du Louvre, Paris, France, General Artwork Catalog p.452 Read here: |
| 2016 | Minerva Godess of all Arts,Italia in Arte nel Mondo, ItalyRead here: Read here: |
| 2016 | EXPOART, Art, Culture and Lifestyle Magazin, Rome, Italy Read here: Read here: |
| 2016 | Triennale Verona, Verona, Italy Read here: Read here: |
| 2016 | International Urbis et Artis Femminissage, Rome, Italy Read here: Read here: |
| 2016 | Art International Contemporary Magazine, first edition, Leonardo da Vinci International Prize p.187 Les her: |
| 2016 | Leonardo da Vinci International Prize, General Artwork Catalog p.129 Read here: |
| 2016 | Artista dell´Anno Read here: |
| 2015 | FEELGOOD 25-2015, Oslo, Norway Read here: Read here: |
| 2015 | SNBA Société Nationale des Beaux Art Read here: |
| 2015 | Il David av Bernini 2015 Exhibition Catalogue, Associazione Italia in Arte nel Mondo, Lecce, Italia Les her: |
| 2015 | Effetto Arte, edition nbr 6, Michelangelo International Prize Read here: |
| 2015 | "BEST Modern and Contemporary ARTISTS 2015", Italy See art critic here: |
| 2015 | Oscar dell´Arte Read here: |
| 2015 | "Art and the Polis" Florence Biennale X Edition, Italy See diploma here: |
| 2015 | Article "Il Genio dell´Arte", Effetto Arte, July-August edition, Italy See article here: |
| 2015 | 1914-2014 Albo Celebrativo, Associazione Italia in Arte, Lecce, Italy |
| 2015 | Peter Paul Rubens 2015, Exhibition Catalogue, Associazione Italia in Arte, Lecce, Italy |
| 2015 | Biennale Barcellona 2015, EA Editore, Barcelona, Spain |
| 2015 | Article in Fine Art Magazine, Spring Edition, Page 1, USA Read the article here: |
| 2015 | Article in Fine Art Magazine, Spring Edition, Page 2, USA Read the article here: |
| 2015 | Sandro Botticelli PRIZE, EA Editore, Florence, Italy |
| 2014 | Wunderkammer, EA Editore, Italy |
| 2014 | Biennale Internazionale Arte di Palermo, "General Artworks Catalog", EA Editore, Italy |
| 2014 | Annuario per Artisti di Successo, "Artisti Internazionali", Fourth edition, Italy |
| 2014 | "Heidi Fosli", Associazione Internazionale Galleria "Il Collezionista", Italy |
| 2014 | Premio Europa in Arte, "1ere Biennale Europeenne Paris", France |
| 2014 | Eiffeltower, "La Grande Exposition Universelle", Paris, France |
| 2014 | Carrousel du Louvre, "Louvre represented by EA", Paris, France |
| 2014 | "Heidi Fosli", Artifact, Manhattan, New York |
| 2014 | Effetto Arte, September - October, "Artistic Stars", Limited edition |
| 2014 | Effetto Arte, July - August |
| 2014 | Artisti Internazionali, Annuario per Artisti di Successo, Fourth edition |
| 2014 | Art Chengdu, 2014.4.17-20, China |
| 2014 | International Contemporary Masters, volume 8, USA |
| 2013 | «Art Acquisitor», Amsterdam Whitney Gallery, New York, USA |
| 2013 | Chianciano Biennale 2013, Chianciano Art Museum, Italy |
| 2013 | Effetto Arte July/August edition, Italy |
| 2013 | Barcelona Showcase, International Exhibition of Contemporary Art, Barcelona, Spain |
| 2013 | «La Tua Arte Nel Sociale» Galleria Il Collezionista, Rome, Italy |
| 2013 | London Art Biennale, London, UK |
| 2013 | KUNST, the leading Art Magazine of the Nordics, no 3, Norway |
| 2012 | MOYA Museum, «Spirit of Art in Vienna» International Art Exhibition, Vienna, Austria |
| 2012 | Chianciano International Art Award, Chianciano Art Museum, Italy |
| 2012 | Effetto Arte, October edition, Italy |
| 2012 | Direct Art, volume 19, USA |
| 2012 | Segni d´Arte, n.1/2, Rome, Italy |
| 2012 | «Christmas EXPO», Galleria 360, Florence, Italy |
| 2011 | «Lights in the Winter» International Contemporary Art Exhibition, Tel Aviv, Israel |
| 2011 | Chianciano Biennale 2011, Chianciano Art Museum, Italy |
SCHOLARSHIPS:
AWARDS:
| | |
| --- | --- |
| 2023 | Achievement Award ICAF Chairman of the Culture and Arts Policy Committee Art Town Gwangju |
| 2023 | Achievement Award Kim Boseong Art Center Seoul South Korea |
| 2023 | Certificate of Achievement World Virtual Museum |
| 2023 | Certificate of Appointment as Judge Haegeumgang Museum South Korea |
| 2023 | Certificate of Commendation National Assembly South Korea |
| 2023 | Certificate of Appreciation Mayor of Geoje City South Korea |
| 2023 | Achievement Award Director of Haegeumgang Theme Museum South Korea |
| 2023 | Achievement Award Haegeumgang Theme Museum Yukyung Art Museum South Korea |
| 2023 | Letter of Appreciation Mayor of Jeongeup City South Korea |
| 2023 | Achievement Award Gyeongnam Future Development |
| 2023 | Ambassador Public Relations Yeosu Art Museum |
| 2023 | Achievement Award Korean Museum Association |
| 2023 | Achievement Award Yeosu Art Museum Director Seo Bong Hee |
| 2023 | Plaque of Merit Korea Museum Association President Cho Han Hee |
| 2023 | Plaque of Merit Haegeumgang Theme Museum Yukyung Art Museum |
| 2023 | Achievement Award Gyeongnam Future Development |
| 2023 | Plaque of Merit ICAF Chairman of Culture and Arts Policy Committee Art Town Gwangju |
| 2023 | Plaque of Appreciation Mayor of Jeongeup City South Korea |
| 2023 | Tamara Art Award, 2.prize, Rome, Italy |
| 2022 | Award Certificate, Korean Private Museum Association, South Korea |
| 2022 | Certificate of Appreciation, National Assembly, Plaque, South Korea |
| 2022 | Certificate of Appreciation, ICAF, South Korea |
| 2022 | Letter of Appreciation, Yeosu Art Museum, South Korea |
| 2022 | Achievement Award, Haegeumgang Museum, South Korea |
| 2021 | Etain Medal from prestigious Academy Arts Sciences Lettres, Paris, France |
| 2021 | Plaque of Appreciation, Mayor of Jeongeup City, South Korea |
| 2021 | Certificate of Appointment ICAF Yukyung Art Museum Geoje |
| 2021 | Letter of Appreciation Mayor of Jeongeup City South Korea |
| 2021 | Letter of Appointment Cultural Ambassador Judge ICAF |
| 2021 | Achievement Award 2021 Korea Art Fair Kim Bo Seong |
| 2021 | Achievement Award 2021 Korea Art Fair |
| 2021 | Achievement Award ICAF International Culture and Arts Federation South Korea |
| 2021 | Letter of Appointment as Judge ICOM International Council of Museums South Korea |
| 2021 | Letter of Appreciation Mayor of Geoje South Korea |
| 2021 | Letter of Appreciation Yeosu Museum of Art South Korea |
| 2019 | 1.Prize Contemporary Art, ArtExpo Gallery, Venice, Italy |
| 2019 | ATIM Top 60 Masters Award, Museum of Arts and Design, Manhattan, New York |
| 2019 | Artist of the Year 2019, Effetto Arte, Art Magazin, Palermo, Italy |
| 2018 | Chianciano Biennale, Chianciano Art Museum, Tuscany, Italy |
| 2016 | SNBA, Salon Nationale des Beaux Arts, Paris, France |
| 2016 | European Art Museum, Fredriksværk, Denmark |
| 2016 | Minerva Goddess of all Arts, Italia in Arte, Lecce, Italy |
| 2016 | Bronze Medal, Arts-Sciences-Lettres, Paris, France |
| 2016 | Leonardo da Vinci International Prize, Effetto Arte, Palazzo Borghese, Florence, Italy |
| 2016 | Artist of the Year 2015, Effetto Arte, Art Magazin, Palermo, Italy |
| 2015 | Honorable Mention, Artists du Monde by Marina Picasso, Cannes, France |
| 2015 | David av Bernini, Italia in Arte, Lecce, Italy |
| 2015 | Anne Frank, Italia in Arte, Lecce, Italy |
| 2015 | Michelangelo International Award, Rome, Italy |
| 2015 | Mention d´Excellence, Gallery Bogart Brussel through Gallery Artitude, Paris |
| 2015 | BEST Modern and Contemporary Artists Award, Edinburgh, Scotland |
| 2015 | Oscar dell´Arte, Artexpo Gallery, Monaco |
| 2015 | Honorable Mention represented by Galerie Artitude Paris in New York S & V Gallery, Manhattan, New York, USA |
| 2015 | Marco Polo International Prize Art Ambassador, Venezia, EA Editore, Venice, Italy |
| 2015 | Premio Biennale Leone dei Dogi Venezia, Artexpo Gallery, Venice, Italy |
| 2015 | Peter Paul Rubens Award 2015, Italia in Arte, Lecce, Italy |
| 2015 | Trophy "Grand Prix de la Cote d´Azur", Cannes, France |
| 2015 | Award Artistic, The Contemporary Art in Vatican 2015, Il Collezionista, Rome, Italy |
| 2015 | Sandro Botticelli, EA, Firenze, Italy |
| 2014 | Nelson Mandela Award, Italia in Arte, Lecce, Italy |
| 2014 | Raffaello Sanzio 2014, Italia in Arte, Lecce, Italy |
| 2014 | Europa in ARTE, Paris, France |
| 2014 | Palma d´Oro (Gullpalmen) for Kunst, Montecarlo, Monaco |
| 2014 | Artistic Trophy Knights of Malta, received for "stylistic value" for the painting "Maternity", Malta |
| 2014 | Art Critics Award, 6th International Art Festival, Galleria l´Agostiniana by Galleria Il Collezionista, Rome, Italy. Received for painting "Expectant Joy". Jury consisted of external University Professors |
| 2013 | Biennale di Chianciano Certificate for Artistic Merit, Italy |
| 2013 | Premio Speciale Galleria Il Collezionista, Roma, Italy |
| 2013 | London Art Biennale Honorable Mention for Artistic Merit, UK |
| 2012 | Chianciano International Art Award Honorable Mention for Artistic Merit, Italy |
| 2011 | Biennale di Chianciano Honorable Mention for Artistic Merit, Italy |
DECORATIONS:
| | |
| --- | --- |
| 2016 | Arpino Municipality, Italy |
| 2010-2015 | Private Collections in Sweden and Norway |
| 2010-2015 | Private Customers in Norway, Sweden, Hong Kong, USA, Italy, France, Holland, Italy, Germany and UK |
| 2015 | bth media ab, Partille, Sweden |
| 2015 | Larvik Municipality, Norway |
| 2011 | Veidekke Art Club, Larvik, Norway |
| 2006 | Molex Knutsen Norge AS, Norway, Denmark and Poland |
| 2001-2002 | Lent out to the foyer at PBK Outsourcing, Lysaker, Norway |
DONATIONS:
| | |
| --- | --- |
| 2018 | The painting "Identify" was donated to Ullevål Hospital, Nevrological Polyclinic, Oslo, Norway |
| 2016 | The painting "Arpino" was donated to Arpino Comune, hangs in Mayors Office, Arpino Municipality, Arpino, Italy |
| 2016 | The painting "The Battlefield" was donated to the winner of the "Human Rights Award" which was well received by the news agency "Stampa Pressenza" in Rome. Free Lance International Press in collaboration with Amnesty International, Rome, Italy |
MEMBERSHIPS:
| | |
| --- | --- |
| 2016 | Organisation Italia in Arte, Honorary member, Brindisi, Italy |
| 2016-2022 | Arts-Sciences-Lettres, Member, Paris, France |
| 2015 | SNBA, Société Nationale des Beaux Art, Paris, France |
| 2016 | Organisation Italia in Arte, Honorary member, Brindisi, Italy |
| 2015 | Organisation Italia in Arte, Honorary member, Brindisi, Italy |
| 2015 | Com2Art Association, Cannes, France |
| 2014 | Organisation Italia in Arte, Honorary member, Brindisi, Italy |
| 2008-2010 | Friends of The Royal Birmingham Society of Artists |
EDUCATION:
| | |
| --- | --- |
| 1984 | Student at American Conservatory Theatre, San Francisco |
| 1985 | Student at Academy of Art, San Francisco |
| 1991-1996 | Cand. Mag. in Psychology, University of Oslo |