Heidi Fosli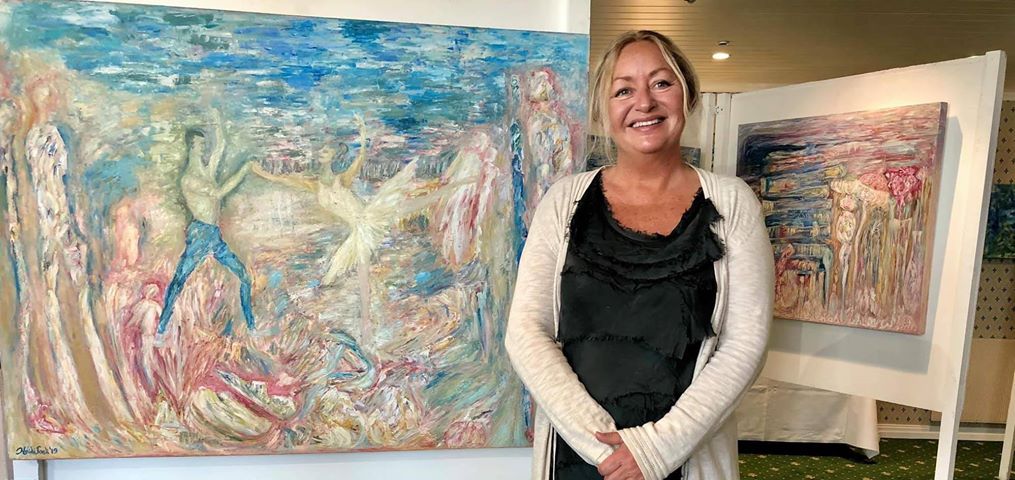 Billedkunstner
Født i Sandefjord 1961
Bor og arbeider i Oslo og Arpino, Italia
Academy of Art University (maling og tegning), San Francisco, USA
Elev av Oddmund Raudberget på skulptur


Heidi Fosli er en multi-prisbelønnet profesjonell kunstner med internasjonal karriere som bor og arbeider både i Norge og Italia. Hun er representert i tre permanente kunstmuseums samlinger i hhv. USA, Danmark og Italia, og har også arbeider i det offentlige rom i Italia.
Kunstkritiker prof. Paolo Levi hevder: "Gjennom den ekstraordinære bruken av farge, som går langt utover bare estetisk forskning, gir Heidi Fosli frie heterogene uttrykksfulle potensialer som kommer fra en internalisert undersøkelse."
Den kjente kunstkritikeren Vittorio Sgarbi skriver: Fosli bruker en farge i klar ekspresjonistisk arv, i tråd med den beste skandinaviske tradisjonen, ekstrem vibrasjon i seg selv i tykke og sammenhengende penselstrøk, nesten som Nabis. De kalde nyanser veksler med de varme der ishalter vil skinne med vulkanske branner, i en glødende, kontrastfylt, noen ganger forstyrrende, men feilfri visjonær balanse.
Den Italienske kunsthistorikeren Daniela Fraioli hevder at Fosli revolusjonerer impresjonismen! Den Italienske kunstkritiker og forfatter Costanzo Costantini kaller henne en "datter av Ibsen og Munch", og kunstkritiker Salvatore Russo sier hun kommuniserer et nytt språk med sin kunst!
Som den første norske kunstner i historien mottok hun bronsemedalje for sitt arbeid fra det over 100 år gamle prestisjefylte akademiet "Arts-Science-Lettres" i Paris. Heidi Fosli har siden debuten i 2006 hatt 25 soloutstillinger og deltatt i over 60 kollektive utstillinger verden over. Hun har blitt utvalgt og har stilt ut på den prestisjetunge utstillingen SNBA (Salon) i Louvre Paris, London Biennale, Verona Triennale, MIIT Museum of Contemporary Art i Torino, Museum of Art & Science i Milano, Chianciano Biennale og Bienial Barcelona MEAM Museum for moderne kunst. Hun ble utvalgt til "Artists of the World" i Cannes organisert av Marina Picasso (Pablo Picassos barnebarn), hvor hun også fikk en "Honorable mention" fra Picasso! Hun har hatt separatutstilling i Vatikanstaten i Roma, stilt ut i Presidentpalasset i Roma, hatt en retrospektiv separatutstilling invitert av Mastroianni-museet i Italia, og har hatt separatutstillinger i New York, Roma, Wien, Oslo og Berlin for å nevne noen. Hun har stilt ut over hele verden fra Kina og Hong Kong i øst til New York og Nevada i vest. Hennes verk har blitt innkjøpt av private samlere og selskaper i Norge og utlandet, inkludert USA, Sverige, Nederland, England, Polen, Tyskland, Italia, Hong Kong, Frankrike og Danmark.
Fosli studerte kunst ved Academy of Art University i San Francisco, og har også universitetsgrad i psykologi fra Universitetet i Oslo med fagene sosialantropologi og sosiologi. Hun har dessuten vært student av Oddmund Raudberget i skulptur, jobber med oljemaleri og grafikk, og maler intuitive og fargerike malerier i både impressionistisk og ekspresjonistisk stil. Primære inspirasjonskilder er Claude Monet, og Munchs symbolikk.
Sentralt i Foslis kunst står depersonifiserte menneskelige representasjoner og torsoer, ofte plassert inne i rommet. Hun jobber både i den klassisk figurative og abstrakte tradisjonen. Hun har uttalt at hun prøver å formidle undring over vår eksistens med sin kunst, og belyser også en ubalanse fra et globalt samfunnsperspektiv.
Heidi Fosli´s tema består av tre dimensjoner: Hun fokuserer på å uttrykke sterke og dramatiske følelser i mellommenneskelige relasjoner. Farger er et viktig element i uttrykket hennes. Hun gjør i stor grad bruk av symbolikk, og målet med det evige og udefinerbare er å skape undring, og å trekke paralleller til samfunnet med dets normer og begrensninger. Hennes andre dimensjon er synlig i flere av hennes senere arbeider der hun primært er opptatt av å belyse utfordringene vi står overfor i vårt samfunn i dag. Hennes "rom" symboliserer vanligvis samfunnet, men kan også symbolisere universet som i den tredje dimensjonen, med fokus på de store spørsmålene om vår eksistens. Hun forsøker å speile samtiden vi lever i. Fosli finner inspirasjon fra sin omfattende reisevirksomhet, men også fra miljøet i hverdagen med politisk innflytelse og basert på mekanismer i vårt samfunn. Vår søken etter rettferdighet, likestilling mellom raser og kjønn og jakten på enhver form for undertrykkelse. Kampen for demokrati og ytringsfrihet i et globalt perspektiv er problemer av interesse som er berørt i hennes arbeid.
KOMMENDE UTSTILLINGER:
| | |
| --- | --- |
| 2020 | "Her Majesty", Gruppeutstilling, Egyptian Cultural Bureau, 26-29 februar, Roma, Italia |
| 2020 | Galleri-ER, påskeutstilling, Sandefjord |
| 2020 | Separatutstilling, Hotel Wassilioff ifm Påskeutstillingen i Stavern |
| 2020 | Sofia University St. Kliment Ohridski, Arsenoe Contemporary Art, 6-10 juli, Sofia, Bulgaria |
| 2020 | Separatutstilling, Grand Hotel Åsgårdstrand, juli, Åsgårdstrand |
| 2020 | Haegeumgang Museum, september, Seoul, Sør-Korea |
| 2020 | Elverum Kunstforening, Vernissage 10.oktober, Elverum |
| 2020 | Separatutstilling, Hotel Kong Carl, 15-18.oktober, Sandefjord |
| 2020 | SCOPE Miami, desember, Miami, USA |
PERMANENTE MUSEUMSSAMLINGER:
| | |
| --- | --- |
| 2017 | Museo degli Artisti Contemporanei di Terzo Millenio, Santa Marino, Salerno, Italia |
| 2016 | European Art Museum Fredriksværk, Danmark |
| 2015 | Southern Nevada Museum of Fine Art, USA |
TIDLIGERE UTSTILLINGER:
SEPARATUTSTILLINGER
| | |
| --- | --- |
| 2019 | Retrospektiv utstilling, Eiksmarka Senter, Bærum |
| 2019 | Separatutstillingen "TID", Hotel Kong Carl, Sandefjord |
| 2019 | Separatutstillingen "TID", Grand Hotel Åsgårdstrand |
| 2019 | Separatutstillingen "TID" ifm Kunstnernes Påskeutstilling, Hotel Wassilioff, Stavern |
| 2018 | Separatutstillingen "Human Society" at Gallery 35 exhibition space i samarbeid med AMB - Art Management Berlin, 4-10 desember, Auguststraße 35, 10119 Berlin, Tyskland |
| 2018 | Separatutstillingen "Lonely Planet" , Hotel Kong Carl , Sandefjord |
| 2018 | Separatutstillingen "Lonely Planet" Grand Hotel, Åsgårdstrand |
| 2018 | Separatutstillingen "Lonely Planet" ifm Kunstnernes Påskeutstilling, Hotel Wassilioff, Stavern |
| 2017 | Separatutstillingen "Antropos" ifm Kunstnernes Påskeutstilling, Hotel Wassilioff, Stavern |
| 2016 | Separatutstillingen "Human Act versus Act of Man", Trygve Lie Gallery, Manhattan, New York |
| 2016 | Separatutstillingen, "Heidi Fosli - Høstutstilling 2016", i samarbeid med Urban Jungle Real Estate, Drammensvn. 72, Oslo |
| 2016 | Fondazione Mastroianni, Separatutstillingen "Emozioni Silenti", Arpino, Italia |
| 2016 | Separatutstillingen "Silent Emotions", Gallery Steiner, Wien, Østerrike |
| 2016 | Kunstnernes Påskeutstilling, Separatutstillingen "Tause følelser", Hotel Wassilioff, Stavern |
| 2016 | Separatutstillingen "Immagini e Sogni nelle Opere di Heidi Fosli", Vatikanet, Palazzo della Cancelleria, Roma, Italia |
| 2016 | Separatutstillingen "Emozioni silenti", Galleria Il Collezionista, Via Rasella, Roma, Italia |
| 2015 | Kunstnernes Påskeutstilling, Wassilioff, Stavern, Norge |
| 2014 | Separatutstillingen "Imposed", Artifact, Manhattan, New York, USA |
| 2014 | Offisiell åpning, Atelier Austmarka, Separatutstilling, Kongsvinger, Norge |
| 2014 | Galleri Frøya, Separatutstilling, Kalvåg, Norge |
| 2013 | Separatutstillingen "Heidi Fosli malerier 2003 - 2013" Rukla, Sandefjord, Norge |
| 2012 | Separatutstilling "Bridges - Malerier 2002 - 2012" hos Galleria Tondinelli, Roma, Italia |
| 2011 | Kunstnernes Påskeutstilling hos Hotel Wassilioff, Stavern, Norge |
| 2010 | Separatutstilling "Human Society" hos Galleriet i Frognerveien 44, Oslo, Norge |
| 2010 | Festival soloutstilling av malerier på Galleri Frøya, Kalvåg, Norge |
| 2009 | Separatutstillingen "Blått Hav - Skyfri Himmel" på Galleri Sovart, Kragerø, Norge |
| 2009 | Separatutstilling på Gallery Frognerveien 44 i Oslo, Norge |
| 2008 | Separatutstillingen "Bohemian Rhapsody on the Wall" på Clodion Art Café, Oslo, Norge |
| 2008 | "Bohemian Rhapsody on the Wall" på Langesund Bad Gjestegård, Langesund, Norge |
| 2008 | Separatutstillingen "Reisen fortsetter" på Gallery Frøya, Kalvåg, Norge |
| 2007 | Separatutstillingen "The Journey Continues" på Gallery Schweigaardsgate 88 i Oslo, Norge |
| 2007 | Separatutstilling på Gallery Frognerveien 44 i Oslo, Norge |
| 2006 | Debut utstillingen "Reisen" på Martha Mettlig, Solli Plass i Oslo, Norge |
GRUPPEUTSTILLINGER
2020
Salon des indépendants - Art Capital, Grand Palais , 11-16 februar, Paris, Frankrike
2019
Venezia Biennale, gjesteutstiller på SELVE Biennalen ! 11.mai - 24 november, Palazzo Zenobio, Venezia, Italia

2019
Galleri-ER, Juleutstillingen, Sandefjord
2019
The International Arsinoe Forum for Contemporary Art, 16-22 november,

Tunisia, Fayoum Governorate, Egypt

2019
Gli Artisti di Collecarino, Il Salottino, Arpino, Italia
2019
ATIM Top 60 Masters, Puello Grimandi Gallery, Manhattan, New York
2019
Årets Kunstner prisen - Artista dell´Anno Effetto Arte Kunstmagasin og link til prisen, Palermo, Italia
2018
Gagliardi Gallery, Utvalgte kunstnere fra Chianciano Biennale, King´s Road, Chelsea, London, UK
2018
Chianciano Biennale 2018, Chianciano Museum of Art, Toscana, Italia
2018
Gruppeutstillingen "Segni in Movimento" , Galleria d´Arte Consorti, Roma, Italia
2017
Spectrum Miami represented by Studio26 Gallery based in New York, USA
2017
Montreux Art Fair, Montreux, Sveits
2017
Gli Artisti di Collecarino, Rådhuset, Palazzo Boncompagni, Arpino, Italia
2017
Museum of Contemporary Art, Miit, Torino, Italia
2016
SNBA, Salon des Beaux Arts, Carrousel du Louvre, Paris, Frankrike
2016
Langkawi Art Biennale, "Exploration", Langkawi, Malaysia
2016
Solamessen tidligere PWC-messen, Sola, Norge
2016
Ashok Jain Gallery, Gruppeutstilling, Lower East Side, New York , USA
2016
Lørenskog Lions Kunstutstilling, Kjenn Skole, Lørenskog
2016
EA Gallery Club, Palermo, Italia
2016
Triennale Verona, Verona, Italia
2016
Femminissage, Kollektivutstilling, International Urbis & Artis, Teatro dei Dioscuri, Quirinale (Presidentpalasset), Roma, Italia
2016
36th Anniversary Exhibition hos Ashok Jain, Lower East Side, New York
2015
154th Edition of National Society of Fine Arts Fair – SNBA, Carrousel du Louvre, Paris, Frankrike
2015
"Art in Palace", Galleria Farini, Palazzo Fantuzzi, Bologna, Italia
2015
La Galerie Bog-Art, representert av Galerie Artitude Paris, Brussel, Belgia Se her for mer informasjon:
2015
Espace Art Gallery representert av Com2Art, Brussels, Belgia Se her for mer informasjon:
2015
"Art and the Polis" Florence Biennale X, Italia Se diplom her:
2015
Galerie Artitude, Paris, Frankrike
2015
Artists of the World Fair 2015 by Marina Picasso, Gare Maritime, La Croisette, Cannes, Frankrike
2015
S & V Gallery, gjennom Artitude Galleri Paris, 4 W 43 Street Suite #415, korsgate 5th Avenue, Manhattan, New York, USA
2015
"GLOBAL VILLAGE - Il mondo come un villaggio globale" in concomitanza con la Biennale di Venezia, Venezia, Italia
2015
"Gli Artisti di Collecarino" , Auditorium Pietro Cossa, Arpino, Italia
2015
The Art Contemporary in the Vatican, Seat of the Vatican, Piazza delle Cancelleria 1, Roma, Italia
2015
Riflessismo, Kongsvinger Festning, Kongsvinger
2015
International Contemporary Masters, Nevada Museum of Fine Arts, Las Vegas, USA
2015
Bienal Barcelona, MEAM, Museo Europeo d´Arte Moderna, Barcelona, Spain
2015
Monumental Complex Theatre of Diòscuri Quirinale, Roma, Italia
2015
International Contemporary Art Fair, Conrad Hotel, Hong Kong, China
2015
FLORENCE ART- Palazzo Guicciardini Bongianni, Firenze, Italia
2015
Art of the Future in the Halls of the Past, Sala Bramante, Museum Complex, Il Collezionista, Roma, Italia
2015
Biennale Palermo, Palermo, Italia
2015
Wunderkammer, Palermo, Italia
2014
Biennial Europa, Paris, Frankrike
2014
Gallery Ashok Jain, gruppeutstilling, New York, USA Se her for mer informasjon:
2014
Italian Cultural Institute, Il Collezionista, Stuttgart, Tyskland
2014
Louvre, Carousel du Louvre, Art Shopping, Paris, Frankrike
2014
La Grande Exposition Universelle, Paris, Frankrike
2014
Synergy, Group show, Toronto, Canada
2014
International Art Festival, Spoleto, Italia
2014
Art China Beijing representert ved Gallery Steiner, Kina
2014
Artistic Trophy Knights of Malta, Malta
2014
6th International Art Festival, Galleria L´Agostiniana ved Galleria Il Collezionista, Roma, Italia
2014
Museo d´Arte e Scienza, gruppeutstilling, Milano, Italia
2014
Art Monaco 2014
2014
Art Chengdu representert av Gallery Steiner, Kina
2014
Galleria Il Collezionista, gruppeutstilling, Roma, Italia
2013
La Tua Arte Nel Sociale, Utstillingskonkurranse, Galleria Il Collezionista, Roma, Italia
2013
Chianciano Biennale 2013Chianciano Art Museum, Chianciano, Italy
2013
Riflessismo Art Exhibition Palazzo Fraternita dei Laici, Arezzo, Italy
2013
International Art Expo New York NY, New York, USA
2013
Group show Amsterdam Whitney Gallery, Chelsea, New York, USA
2013
Art of the Mind Gagliardi Gallery, London, UK
2013
London Art Biennale Chelsea Old Town Hall, London, UK
2012
Christmas Expo Galleria360, Firenze, Italia
2012
One of a Kind - Unconventional Portraits - kollektivutstillingGalleria Opio5, Montepulciano, Italia
2012
Chianciano International Art Award 2012 Chianciano Art Museum, Chianciano, Italy
2012
Masters and Artists of Today - Kollektivutstilling Galleria Tondinelli, Rome, Italy
2012
International Art Exhibition "Spirit of Art" hos MOYA Museum, Wien Østerrike
2011
Kollektivutstilling hos Galleri Tosmur og link til Galleri Tosmur, Stathelle
2011
International Art Exhibition Lights in the winter 2011 hos Old Jaffa Museum of Archaeology, Jaffa Tel Aviv Israel
2011
Biennale Chianciano 2011 hos Museo d Arte di Chianciano, Tuscany Italy
2009
Maleriutstilling på Galleri Frognerveien 44, Oslo
2009
Maleriutstilling på Moss Kunstforening, Moss
2008
Maleriutstilling påGallery Rød , Rød Mansion for Halden Kunstforening, Halden
2007
Maleriutstilling på Sandefjord Kunstforening i Sandefjord
2007
Maleriutstilling på Gallery Frognerveien 44 i Oslo
PUBLIKASJONER:
| | |
| --- | --- |
| 2019 | Venezia Biennale offisiell katalog, Venezia, Italia Les her: Les her: |
| 2019 | Primo Premio Contemporary Art, ArtEXPO Gallery, Venezia, Italia Les her: Les her: |
| 2019 | Årets Kunstner, Artista dell´Anno, Palermo, Italia Les her: Les her: |
| 2018 | Heidi FOSLI 1a Scelta (første valg), katalog med kunstomtale og prisvurdering malerier, publisert av Effetto Arte, Italia Les her: og her: |
| 2018 | Certamen, Arpino, Italia Les her: Les her: |
| 2018 | Heidi FOSLI curated by Vittorio Sgarbi, katalog med kunstomtale og selekterte malerier, Engelsk versjon, publisert av Effetto Arte, Italia Les her: og her: |
| 2018 | Heidi FOSLI curata di Vittorio Sgarbi, katalog med kunstomtale og selekterte malerier, Italiensk versjon, publisert av Effetto Arte, Italia Les her: og her: |
| 2018 | Chianciano Biennale , Chianciano, Toscana, Italia Les her: og her: |
| 2017 | MAG - Montreux Art Fair representert av Mona Youssef Gallery fra Canada, Montreux, Sveits Les her: Les her: |
| 2017 | FEELGOOD 4-2017, Oslo, Norge Les her: Les her: |
| 2017 | First Berliner Art Book 2017, Berlin, Tyskland Les her: Les her: |
| 2016 | ITALIANI selezione d´arte contemporeana a cura di Vittorio Sgarbi, s.181, EA, Italia Les her: Les her: |
| 2016 | Salon Nationale des Beaux Arts, Carrousel du Louvre, Paris, Frankrike, General Artwork Catalog s.452 Les her: |
| 2016 | Minerva Dea di tutte le Arti,Italia in Arte nel Mondo, Italia Les her: Les her: |
| 2016 | EXPOART, Kunst, kultur og livsstilsmagasin,Roma, Italia Les her: Les her: |
| 2016 | Triennale Verona, Verona, Italia Les her: Les her: |
| 2016 | International Urbis et Artis Femminissage, Roma, Italia Les her: Les her: |
| 2016 | Art International Contemporary Magazine utgave 1, Leonardo da Vinci International Prize s.187 Les her: |
| 2016 | Leonardo da Vinci International Prize, General Artwork Catalog s.129 Les her: |
| 2016 | Artista dell´Anno Les her: |
| 2015 | FEELGOOD 25-2015, Oslo, Norge Les her: Les her: |
| 2015 | SNBA Société Nationale des Beaux Art Les her: |
| 2015 | Il David av Bernini 2015 Exhibition Catalogue, Associazione Italia in Arte nel Mondo, Lecce, Italia Les her: |
| 2015 | Effetto Arte utgave nr 6, Michelangelo International Prize Les her: |
| 2015 | "BEST Modern and Contemporary ARTISTS 2015", Italia Se kunstkritikk her: |
| 2015 | Oscar dell´Arte Les her: |
| 2015 | Art and the Polis Florence Biennale X utgave, Italia Se diplom her: |
| 2015 | Artikkelen "Il Genio dell´Arte", Effetto Arte, juli-august utgaven, Italia Les artikkelen her: |
| 2015 | 1914-2014 Albo Celebrativo, Associazione Italia in Arte, Lecce, Italia |
| 2015 | Peter Paul Rubens 2015, Exhibition Catalogue, Associazione Italia in Arte, Lecce, Italia |
| 2015 | Biennale Barcellona 2015, EA Editore, Barcelona, Spania |
| 2015 | Artikkel i Fine Art Magazine, vår utgave, Side 1, USA Les artikkelen her: |
| 2015 | Artikkel i Fine Art Magazine, vår utgave, Side 2, USA Les artikkelen her: |
| 2015 | Sandro Botticelli PRIZE, EA Editore, Florence, Italia |
| 2014 | Wunderkammer, EA Editore, Italia |
| 2014 | Biennale Internazionale Arte di Palermo, "General Artworks Catalog", EA Editore, Italia |
| 2014 | Annuario per Artisti di Successo, "Artisti Internazionali", Fourth edition, Italia |
| 2014 | "Heidi Fosli", Associazione Internazionale Galleria "Il Collezionista", Italia |
| 2014 | Premio Europa in Arte, "1ere Biennale Europeenne Paris", Frankrike |
| 2014 | Eiffeltower, "La Grande Exposition Universelle", Paris, Frankrike |
| 2014 | Carrousel du Louvre, "Louvre represented by EA", Paris, Frankrike |
| 2014 | "Heidi Fosli", Artifact, Manhattan, New York |
| 2014 | Effetto Arte, September - Oktober, "Artistic Stars", Limited edition, Italia |
| 2014 | Effetto Arte, Juli - August, Italia |
| 2014 | Artisti Internazionali, Annuario per Artisti di Successo, fjerde utgave, Italia |
| 2014 | Art Chengdu, 2014.4.17-20, Kina |
| 2014 | International Contemporary Masters, volum 8, USA |
| 2013 | «Art Acquisitor», Amsterdam Whitney Gallery, New York, USA |
| 2013 | Chianciano Biennale 2013, Chianciano Art Museum, Italia |
| 2013 | Effetto Arte juli/august utgave, Italia |
| 2013 | Barcelona Showcase, International Exhibition of Contemporary Art, Barcelona, Spain |
| 2013 | «La Tua Arte Nel Sociale» Galleria Il Collezionista, Rome, Italia |
| 2013 | London Art Biennale, London, UK |
| 2013 | KUNST, Nordens ledende kunstmagasin, nr 3, Norge |
| 2012 | MOYA Museum, «Spirit of Art in Vienna» International Art Exhibition, Wien, Østerrike |
| 2012 | Chianciano International Art Award, Chianciano Art Museum, Italia |
| 2012 | Effetto Arte, oktober utgave, Italia |
| 2012 | Direct Art, volum 19, USA |
| 2012 | Segni d´Arte, n.1/2, Roma, Italia |
| 2012 | «Christmas EXPO», Galleria 360, Firenze, Italia |
| 2011 | «Lights in the Winter» International Contemporary Art Exhibition, Tel Aviv, Israel |
| 2011 | Chianciano Biennale 2011, Chianciano Art Museum, Italia |
STIPENDIER:
UTMERKELSER:
| | |
| --- | --- |
| 2019 | 1.Premie Contemporary Art, ArtExpo Gallery, Venezia, Italia |
| 2019 | ATIM Top 60 Masters Award, Manhattan, New York |
| 2019 | Årets Kunstner 2019, Effetto Arte, Kunstmagasin, Palermo, Italia |
| 2018 | Chianciano Biennale, Chianciano Art Museum, Toscana, Italia |
| 2016 | SNBA, Salon Nationale des Beaux Arts, Paris, Frankrike |
| 2016 | European Art Museum, Fredriksværk, Danmark |
| 2016 | Minerva Goddess of all Arts, Italia in Arte, Lecce, Italia |
| 2016 | Bronse Medalje, Arts-Sciences-Lettres, Paris, Frankrike |
| 2016 | Leonardo da Vinci International Prize, Effetto Arte, Palazzo Borghese, Firenze, Italia |
| 2016 | Årets Kunstner 2015, Effetto Arte, Kunstmagasin, Palermo, Italia |
| 2015 | Honorable Mention, Artists du Monde av Marina Picasso, Cannes, Frankrike |
| 2015 | David av Bernini, Italia in Arte, Lecce, Italia |
| 2015 | Anne Frank, Italia in Arte, Lecce, Italia |
| 2015 | Michelangelo International Award, Roma, Italia |
| 2015 | Mention d´Excellence, Gallery Bogart Brussel gjennom Gallery Artitude, Paris |
| 2015 | BEST Modern and Contemporary Artists Award, Edinburgh, Scotland |
| 2015 | Oscar for kunsten, Artexpo Gallery, Monaco |
| 2015 | Honorable Mention representert av Galerie Artitude Paris i S & V Gallery, Manhattan, New York, USA |
| 2015 | Marco Polo International Prize Art Ambassador Venezia, EA Editore, Venezia, Italia |
| 2015 | Premio Biennale Leone dei Dogi Venezia, Artexpo Gallery, Venezia, Italia |
| 2015 | Peter Paul Rubens Award 2015, Italia in Arte, Lecce, Italia |
| 2015 | Trofeet "Grand Prix de la Cote d´Azur", Cannes, Frankrike |
| 2015 | Award Artistic, The Contemporary Art in Vatican 2015, Il Collezionista, Roma, Italia |
| 2015 | Sandro Botticelli, EA, Firenze, Italia |
| 2014 | Nelson Mandela Award, Italia in Arte, Lecce, Italia |
| 2014 | Raffaello Sanzio 2014, Italia in Arte, Lecce, Italia |
| 2014 | Europa in ARTE, Paris, Frankrike |
| 2014 | Palma d´Oro (Gullpalmen) for Kunst, Montecarlo, Monaco |
| 2014 | Artistic Trophy Knights of Malta, mottatt for "stylistic value" for maleriet "Maternity" |
| 2014 | Kritikerprisen, 6th International Art Festival, Galleria l´Agostiniana ved Galleria Il Collezionista, Roma, Italia. Mottatt for maleriet "Expectant Joy". Juryen bestod av eksterne universitetsprofessorer. |
| 2013 | Biennale di Chianciano Certificate for Artistic Merit |
| 2013 | Premio Speciale Galleria Il Collezionista, Roma, Italia |
| 2013 | London Art Biennale Honorable Mention for Artistic Merit |
| 2012 | Chianciano International Art Award Honorable Mention for Artistic Merit |
| 2011 | Biennale di Chianciano Honorable Mention for Artistic Merit |
MEDLEMSSKAP:
| | |
| --- | --- |
| 2016 | Organisasjonen Italia in Arte, Æresmedlem, Brindisi, Italia |
| 2016 | Arts-Sciences-Lettres, Medlem, Paris, Frankrike |
| 2016 | Organisasjonen Italia in Arte, Æresmedlem, Brindisi, Italia |
| 2015 | SNBA, Société Nationale des Beaux Art, Paris, Frankrike |
| 2015 | Organisasjonen Italia in Arte, Æresmedlem, Brindisi, Italia |
| 2015 | Com2Art Association, Cannes, Frankrike |
| 2014 | Organisasjonen Italia in Arte, Æresmedlem, Brindisi, Italia |
| 2008-2010 | Friends of The Royal Birmingham Society of Artists, Birmingham, UK |
UTSMYKNINGER & INNKJØPT AV:
| | |
| --- | --- |
| 2016 | Arpino Kommune, Italia |
| 2010-2019 | Private samlinger i Norge og Sverige |
| 2010-2019 | Private kunder i Norge, Sverige, Frankrike, Nederland, Hong Kong, USA, Italia, Tyskland og UK |
| 2015 | bth media ab, Partille, Sverige |
| 2015 | Larvik Kommune |
| 2011 | Veidekke Kunstklubb, Larvik |
| 2006 | Molex Knutsen Norge AS, Norge, Danmark og Polen |
| 2001-2002 | Utlånt til foajèen hos PBK Outsourcing på Lysaker |
DONASJONER:
| | |
| --- | --- |
| 2018 | Maleriet "Identify" ble donert til Ullevål Sykehus, Nevrologisk Poliklinikk, Oslo |
| 2016 | Maleriet "Arpino" ble donert til Arpino kommune og henger på ordførerens kontor, Rådhuset, Arpino, Italia |
| 2016 | Maleriet "The Battlefield" ble donert til vinneren av "Human Rights Award" som ble vel mottatt av nyhetsbyrået "Stampa Pressenza" i Roma. Free Lance International Press i samarbeid med Amnesty International, Roma, Italia |
UTDANNING:
| | |
| --- | --- |
| 1991-1996 | Cand. Mag. i psykologi ved Universitetet i Oslo |
| 1985 | Elev ved Academy of Art i San Francisco |
| 1984 | Elev ved American Conservatory Theatre i San Francisco |